Post by BlueSanta on Feb 8, 2019 16:24:28 GMT -5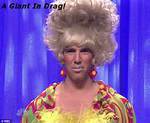 I replied with data in kind to the data you provided but seem to have altered because Mcshay did not have players rated where you had them according to the link I provided..
Altered 'em, huh?
www.espn.com/nfl/draft2019/story/_/id/25548365/meet-2019-nfl-draft-quarterback-class-everything-need-know
Seriously? That link is from December. It is prior to Haskins bowl game as well his anouncement to turn pro. It is a month prior to the senior bowl, where Drew Lock, by ALL accounts, tore it up greatly increasing his draft stock.

Did you alter it? No, Did you go way back to outdated scouting reports and try to use them as if they are recent? Yes. If you go back and read what I said, the post which you replied to, I was very clear when I said "at this point." I say that because you never know what will happen at the combine. Who will score poorly in interviews or who will fail a drug test....etc. It also means, not 2 months ago before the end of the college season.

The link I provided you above from McShay was a couple days ago(the same day as the post, coincidentally), it is his most recent update and it 100% agrees with my current opinion.

FYI, You STILL have not backed up your "most experts" statement. I'm holding my breath in anticipation.
At this point , I think it is safe to assume you made it up, or at the very least you are not up to date on the topic. Of course , I have known this since you said it, but gave you the opportunity to either dig your own grave, or perhaps show me some opinions I did not know about, or maybe admit you were operating with outdated ratings. I am always glad to read more opinions I have not seen. Unfortunately, you chose to dig deeper.

*Update* - NFL.com has given Dwayne Haskins an initial grade of 6.25, and Drew Lock a grade of 6.05 . Here are the grades they gave last year's QBs: Baker Mayfield - 6.04, Josh Rosen - 6.19, Josh Allen 5.90, and Sam Darnold 7.0
So by this metric, which is not based on the class but by individual evalations, Haskins is higher rated than 3 of the top 4 QBs last year and Lock is higher than 2 of the 4.