Post by lazur on Apr 6, 2021 9:13:02 GMT -5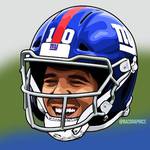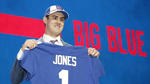 I can't think of another player in recent history who has been hyped as much as Barkley.  There must be some other examples, but I can't think of one off the top of my head. 

I would be shocked if Barkley makes it through 5 games in 2021 without getting hurt. This is why I would like to see the Giants draft a RB in the 3rd or 4th round. The Giants don't need a backup RB, they need a starting RB.
I can't think of a player hated so much because of the position he plays and where he was drafted. 
Saquon Barkley needs to be better at pass blocking. For his size, he should be better at it. He needs to be more decisive at times and hit the hole instead of dancing around trying to make things happen. I understand the argument against drafting a running back no. 2 overall, or even in the first round. 
He's suffered two injuries in his first three seasons. A high ankle sprain (that he may have come back from too soon in 2019) and torn ACL in Week 2 of the 2020 season. But when he is healthy, he is a dynamic player in this league. 
He set a
few rookie records
that are pretty impressive. I'd say that is someone who is "living up to the hype" of being picked no. 2 overall.  
NFL records
• Most 100+ yards from scrimmage games by a rookie – 12 games
• Most scrimmage yards by a rookie – 2,028 (led NFL)
• Most 50+ yard touchdowns by a rookie – 5 (tied with Randy Moss)
• Most receptions by a rookie running back – 91
• Most catches in a game by a rookie – 14
Giants franchise records
• Most rushing touchdowns in a season by a rookie – 11
• Most rushing yards in a season by a rookie – 1,307
• Most total touchdowns in a season by a rookie – 15
• Most catches in a game by a rookie – 14
• First Giants' running back to have 1,000 rush yards in first two seasons
It's not that I hate Barkley. It's I hate where he was picked. A RB taken 2 overall in the draft should have zero holes in his game. Zero. Put him up next to Elliott taken 4 and McCaffrey taken 8 or 9 Barkley has zero on them. Elliot runs with power, blocks, catches everything and can take it to the house. McCaffrey Dorsey have near the size as these too but makes the most of it. Barkley selected higher, with more ability and supposedly has huge powerful legs rarely runs with power, struggles is pass protection and waves to bounce it outside way to much. My point is this. With those holes in his game. A RB can be found day 3